A new craze has hit the knitting world and we're not ashamed to admit that we're totally obsessed. Arm knitting has hit with a bang, and once you understand what it's all about, it's easy to see why it's such a big hit. Firstly, you don't have to be a master knitter – novices can pick this up with ease. Secondly, there are no needles or hooks to bother with! All you need is yarn and your two arms. Instead of that very structured look that you get with conventional knitting, you're able create chunky-looking infinity scarves (or snoods) with very loose stitches, for a more casual and informal look.
Have a look at the great videos and tutorials we've managed to find for you so that you can join the craze.
#1 The Half-Hour Infinity Scarf
This double infinity scarf is very bulky, so it's perfect for the when the cold really sets in. The 12-minute video tutorial takes it nice and slow so it's really easy to follow, especially because it's been filmed from the knitter's perspective. It should only take you about half an hour to get this done!
#2 Arm Knitting for Beginners
For this cowl there's another great video to guide you through the way. If you're a knitting beginner then this will really make it easy for, you. The short video also offers some written instructions so it's even easier to follow – just make sure to give it your full attention. It helps to watch the whole thing through before you get started (there might be a lot of stopping and starting) so that you really get the grasp of it.
#3 They Don't All have to be Super Chunky
If you find it irritating to have to continually pause and play a video in order to keep up with your new exciting arm-knitting project, you may prefer these written instructions instead. There's not all that much reading to be done, and the inclusion of images will help guide you further. Although the 'stitches' remain loose and chunky, this specific cowl isn't quite as big as some of the others so you won't have to wait for freezing temperatures to show it off.
#4 Go Big or Go Home
This big stitch merino makes for a softer, warmer and even chunkier cowl. Once you're a pro and arm knitting scarves every 15 minutes, you'll have more wiggle room to experiment with different types of yarns.
#5 More Strands for More Bulk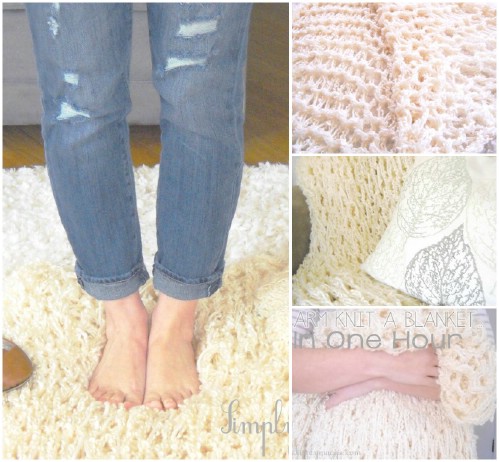 For this blanket, the arm knitter uses three stands of yarn at the same time, and two different types or yarn for some variation of texture. Make sure to use super bulky yarns so that the blanket actually fills out, especially if you want the blanket to actually fulfill its purpose.
#6 An Arm Knitting Necklace!
When it comes to arm knitting, your possibilities are actually wider than you may have thought; one of those possibilities is a statement necklace. You'll need just a few more supplies this time other than just the yarn and your arms, but the result is a beautifully unique accessory. There are some instructions for you to read through as well as a video tutorial to guide you through this funky new endeavor.
#7 A Thinner, Lighter Scarf
If you love the idea of arm knitting but don't want such a bold and chunky scarf then check out this next video tutorial. Instead of bulky yarn, this scarf is made with yarn that is specifically used for making scarves; the end result is an infinity scarf that is lightweight and thinner than most, and ideal for spring.
#8 Written Instructions – Minus the Videos
Here's another one for those of you who aren't that keen on videos. These written instructions are just as clear and helpful as the real-life videos, and there are photos to help you through step-by-step.
#9 Something a Little Shimmery
The combination of written instructions and photo and video tutorials makes it even easier to learn how to do this craft. The scarf was made with an interesting selection of yarn: the silver strand adds a little something extra to the neutral tone.
#10 Something Different: Purl Stitch
When you're feeling more confident in your arm knitting capabilities using the basic knit stitch and want something different, watch this video to learn how to do how to do a purl stitch. The purl technique creates little bumps in the pattern, so you get some added texture with this one. As a beginner, it's better to start out with the regular knit stitch before moving on to this one.